What We Offer
Cognitive life coaching for positive results

About Your Life Coach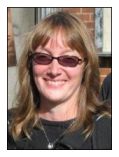 Barb has a PsyD in Counseling Psychology, with a concentration in cognitive/behavioral work and brief therapy technques. She has worked with individuals, couples, and families and is experienced in group faciliation.
Barb has worked with clients in person since 2000 and online/over the phone since 2005. She currently offers life coaching sessions over the phone with clients across the United States and around the world and conducts in-person seminars in the Central Florida area.

What Can Barb Help You With?
Typical areas of focus include:

Assertiveness: Say "No" with confidence
Self-Esteem: You can't truly love others until you love yourself
Anger Management: Don't stuff your anger; embrace it in a healthy way
Relationships: Are your expectations realistic? How can you get what you need?
Conflict Resolution: Neutralizing emotions and finding neutral touchstones
Infidelity: Removing judgment to get to the root cause
Communication: Ensuring understanding on both sides Parenting: Authority, boundaries, consistency, communication
Grieving Process: Go beyond acceptance to empowerment
Work: Time management, stress management, conflicts, reassessment of work goals
Adult Children from Dysfunctional Homes: Take power over the past
Gay/Lesbian Issues: Relationships, family, personal issues
The Life Coaching Process
Life coaching is a very active process that includes:
Identifying the issues the client wants to address Setting a specific goal
Making an action plan with focused steps to reach the goal Implementing those steps
Adjusting the plan as necessary
The goal is to give the client strategies that can be used immediately to deal with the situation at hand. Those same strategies are often useful later to deal with other issues.


How to Make an Appointment


Quizzes
Try these quizzes:
Are you an emotional eater?
How much do you know about active listening?